On Dissolving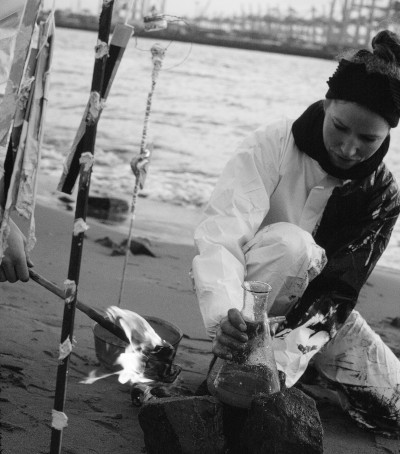 A gathering of the academy in-between

Datum:

2019-10-03

2019-10-08

Ort:

PAF – Performing Arts Forum, 15 rue Haute, 02820 St. Erme-Outre-et-Ramecourt (F)
Ontologien des Politischen im Widerstreit. Analyse und Diskussion einer Debatte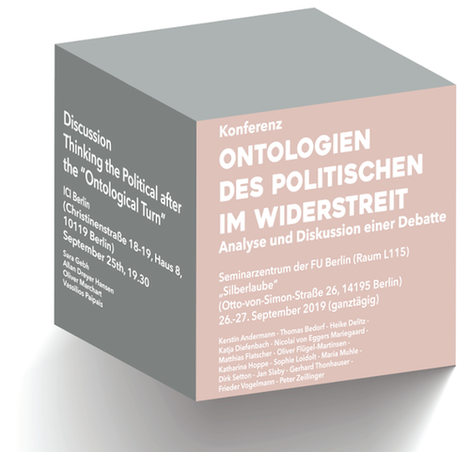 Konferenz

Eröffnung:

2019-09-25 19:30

Datum:

2019-09-25

2019-09-27

Ort:

ICI Berlin –Institute for Cultural Inquiry, Christinenstraße 18-19, Haus 8, 10119 Berlin; Seminarzentrum der FU Berlin(Raum L115), "Silberlaube" (Erdgeschoß), Otto-von-Simon-Straße 26, 14195 Berlin
Vortrag von Maria Muhle: "Ontologische Wende" des Politischen? Rancières Unbehagen
Freitag, 27.09.2019, 9:30–10:15
Seminarzentrum der FU Berlin
"Bild-Affekte"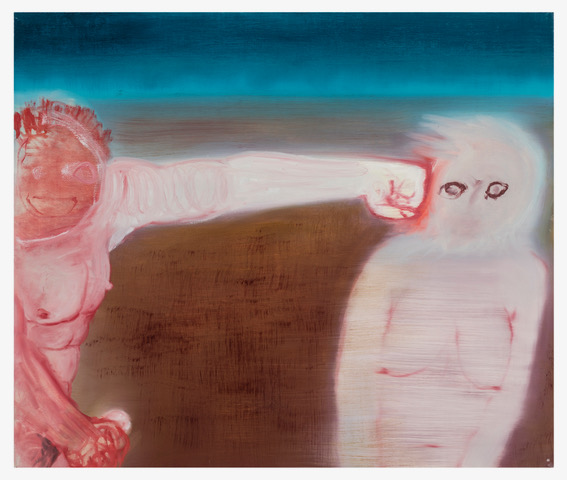 Abendvortrag von Kerstin Thomas (Universität Stuttgart)

Datum & Uhrzeit:

2019-05-29 18:00

Ort:

Akademie der Bildenden Künste München, Akademiestr. 2-4

Raum:

Neubau, E.O1.23.
Kerstin Thomas ist Professorin für Kunstgeschichte der Moderene am Institut für Kunstgeschichte der Universität Stuttgart. Ihre Forschungsschwerpunkte umfassen u.a. die kunstgeschichtliche Emotionsforschung, Form- und Ausdruckskonzepte in Kunst, Wissenschaft und Ästhetik der Moderne und die Wissenschaftsgeschichte der Moderne. Sie ist Mitglied der Emmy Noether-Nachwuchsgruppe "Form und Emotion" und arbeitet zur Zeit an einem Handbuch der Emotionsbegriffe im französischen Kunstdiskurs des 19. Jahrhunderts.
Call for papers: Things Beside Themselves. Mimetic Existences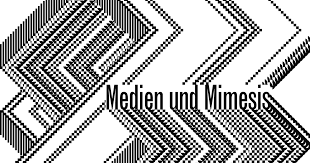 The concluding conference of the DFG / SNF research group 'Media and Mimesis' 3rd – 5th February 2020
Deadline for submissions: 30th June 2019
Location: Weimar
From the perspective of industrialised, Western societies of discipline and control, to be 'beside oneself' denotes at best a religious, and at worst a pathological state of subjective exception. Through intoxication, possession, or various affects, the subject here enters an alternative state (of being) in which he or she assumes the identity of something else or becomes simply non-identical. To be beside oneself is then a key indicator of an excessive form of mimesis, which in the dispositif of modern Western ontologies is experienced as a loss of self – a loss that is regulated and subjected to therapy.
In contrast to such normalising classifications, mimetic practices in a wide range of media cultures show that being beside oneself represents a mode of existence of mimetic artefacts and mimetic subjectivation. This excessive mimetic mode of existence allows us to conceive the historical and ontogenetic being of things as a transformative intermediate being. Mimesis can thus be understood as a trans-subjective, intermedial praxis that is tied to particular materials and techniques and emerges through hybrid operational chains.
Der Kosmos, aus der Gefängniszelle heraus betrachtet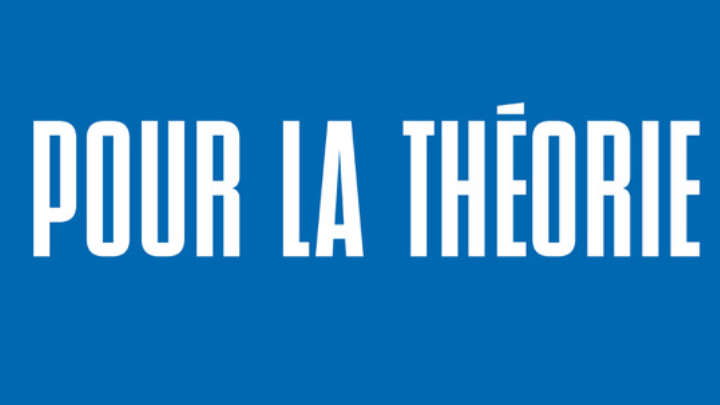 Der Kosmos, aus der Gefängniszelle heraus betrachtet (D.A.F. Marquis de Sade, Auguste Blanqui)
Vortrag von Dr. Alexandra Heimes (Berlin)
Termin: Do., 07.02., 18:30
Ort: Raum U 104 B, Schellingstr. 3, LMU
Dr. Alexandra Heimes ist Literaturwissenschaftlerin und wissenschaftliche Mitarbeiterin am Leibniz-Zentrum für Literatur- und Kulturforschung in Berlin mit dem Projekt "Interferenzen von Technizität, Theorie und literarischer Form seit den 1950er Jahren". Sie arbeitet u.a. zur kosmologischen Spekulation, Literatur und (Nicht)Wissen und dem Lebensbegriff. Ihre jüngeren Aufsätze hat sie zu "Revolution in Permanenz. Auguste Blanquis Ewigkeit durch die Sterne" (in: Reto Rössler/Tim Sparenberg/Philipp Weber (Hg.): Kosmos & Kontingenz. Paderborn: Fink 2016) und "Zufall, Schicksal" (in: Kerstin Andermann/Christoph Jamme (Hg.): 10 Minuten Philosophie. Paderborn: Fink 2017) veröffentlicht.
Practices of Mutual Care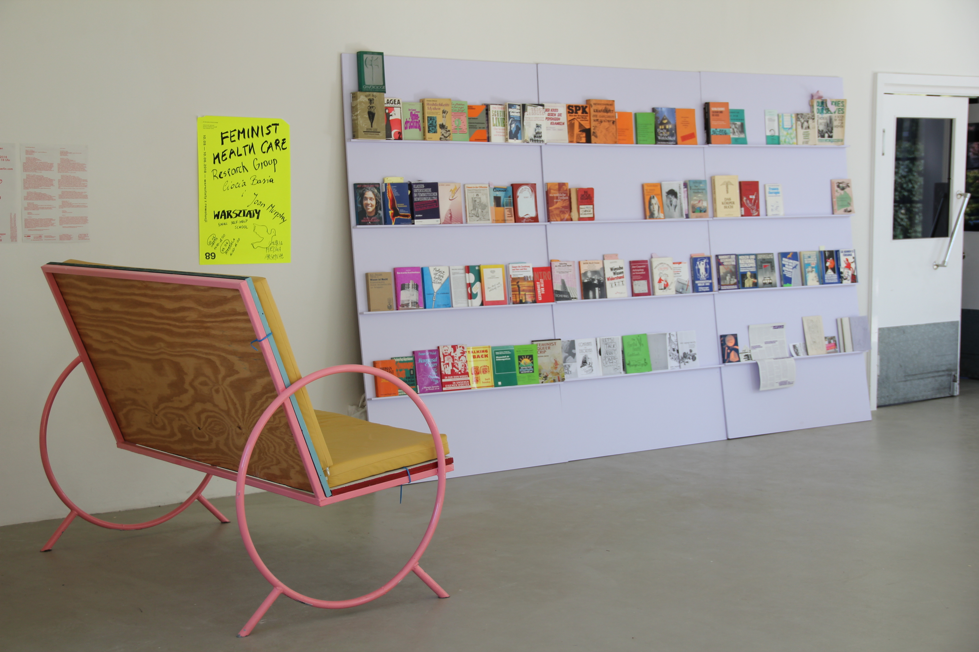 "Practices of Mutual Care (Formen gegenseitiger Fürsorge)"
Vortrag und Workshop mit Inga Zimprich (Berlin)
Termin: Do., 31.01., 18:00 Vortrag: "Practices of Mutual Care (Formen gegenseitiger Fürsorge)"
Fr. 01.02., 11:00 – 15:00 Workshop
Ort: E.01.23, Erweiterungsbau, Akademie der Bildenden Künste
Inga Zimprich ist Künstlerin und Kuratorin. Sie initiierte die Feministische Gesundheitsrecherchegruppe 2015. 2016/2017 bestand FGRG aus Julia Bonn, Alice Münch, Inga Zimprich, sie ging aus einer größeren Gruppe hervor. Seit 2018 besteht sie in verschiedenen Konstellationen. Inga ist außerdem Teil der Sickness Affinity Group, einem Zusammenschluss von Künstler*innen und Aktivist*innen u.a., die zu (chronischer) Krankheit und Behinderung arbeiten.
LOL History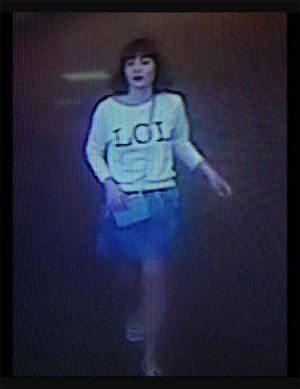 Reflections on LOL History
Keynote by Shumon Basar
Date: Fr. 11.01, 18:15
Location: Auditorium, Erweiterungsbau, Akademie der Bildenden Künste
Shumon Basar is a writer, thinker and cultural critic. He is co-author of The Age of Earthquakes: A Guide to the Extreme Present with Douglas Coupland and Hans Ulrich Obrist (Penguin/Blue Rider, 2015). His edited books include Translated By, Cities from Zero and Hans Ulrich Obrist Interviews Volume 2. He is Commissioner of the Global Art Forum in Dubai, Editor-at-large of Tank magazine and Contributing Editor at Bidoun magazine, Director of the Format program at the AA School, a member of Fondazione Prada's "Thought Council" and Art Jameel's Curatorial Council.
He will give a talk on his text LOL History (e-flux 2017) which has been sparked by a photo of Doan Thi Huong that was taken shortly after she assassinated Kim Jong-nam, the eldest son of former North Korean leader Kim Jong-il. From the image taken by a CCTV-camera, he develops a kaleidoscopic study of digital images, talking about pixels, the zoom, Chris Maker, Lacan and deep-sea cables.
The keynote is part of a workshop (Fr. 11.01, 13:00 – 18:00 at the Auditorum, Erweiterungsbau; Sa. 12.01, 9.30 – 15:00, Alter Sitzungssaal, Altbau) that picks up the kaleidoscopic nature of LOL History with inputs that concentrate and expand on a part, a phrase or a notion of the text. Inputs will be given by Sebastian Althoff (München), Julia Eckel (Bochum), Felix Hasebrink (Bochum), Niklas Kammermeier (Bochum,) David Ashley Kerr (Helsinki), Elisa Linseisen (Bochum), Maja-Lisa Müller (Bielefeld), Nicolas Oxen (Weimar), Rebecca Puchta (Frankfurt) and Franziska Winter (Weimar).
Pour la Théorie | Vera Tollmann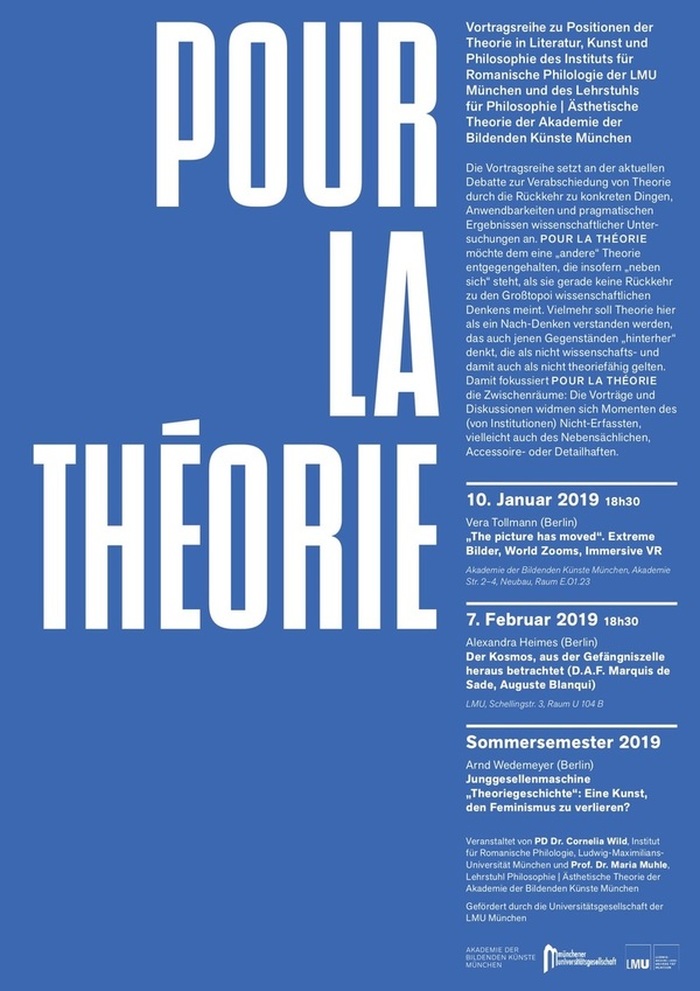 "The picture has moved." Extreme Bilder, World Zooms, Immersive VR

Datum & Uhrzeit:

2019-01-10 18:30

Ort:

E.01.23 | Neubau der AdBK
Mimesis Expanded

"Eine Skulptur-Photographie oder besser eine Teleplastik" — Mimesen zwischen Natur und Kultur bei Caillois
Vortrag von Maria Muhle bei der Internationalen Konferenz "Mimesis Expanded", 21.–23.11.2018, Ruhr-Universität Bochum 
In "Mimese und legendäre Psychasthenie" (1935) widmet sich Roger Caillois Formen exzessiver Nachahmung anhand der Insektenmimese und eröffnet zugleich eine Fluchtlinie hin auf die psychische Verfasstheit menschlicher Subjekte und ihre Raumpathologien. Entgegen der These, das mimetische Anpassungsverhalten der Insekten an ihre Umwelt sei ein Abwehrmechanismus, zeigt Caillois, dass es sich hierbei keineswegs um eine Artikulation des Selbsterhaltungstriebs, sondern um einen "Trieb zur Selbstaufgabe" handele. Mimese wird zur Pathologie, insofern sie die Unterscheidung zwischen Organismus und Umgebung zersetzt. Zugleich beschreibt Caillois die morphologische Mimese als eine "echte Photographie […]: eine Skulptur-Photographie oder besser eine Teleplastik", als eine Art 3D-Print avant la lettre. Der Vortrag möchte diesen Zusammenhang von (Insekten-)Mimese und Fotografie untersuchen und sich dabei auf einschlägige Caillois-Lektüren (R. Krauss, J. Lacan, K. Silverman) beziehen, die sowohl den Ästhetik- als auch den Subjektbegriff aufweichen und so Anhaltspunkte geben für die Bestimmung einer "Milieuästhetik".
Maintenance als Lebensform. Zwischen Ästhetik und Politik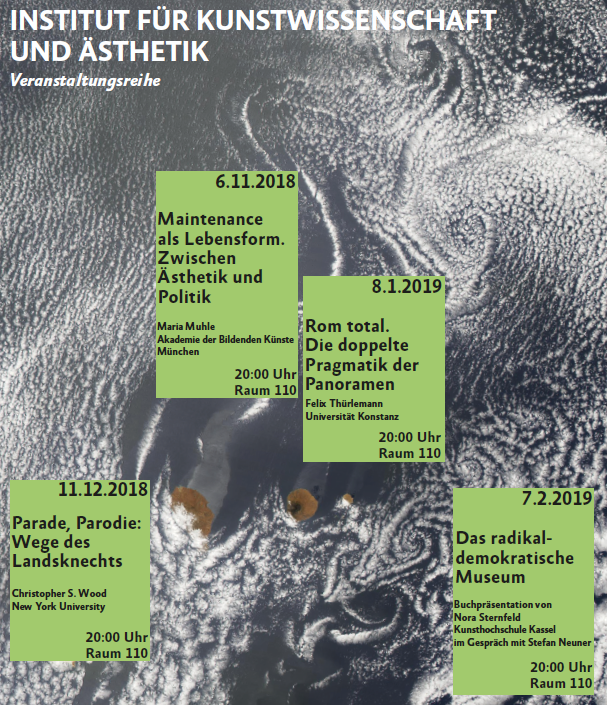 Maintenance als Lebensform. Zwischen Ästhetik und Politik 
Vortrag von Maria Muhle bei der Veranstaltungsreihe des Instituts für Kunstwissenschaft und Ästhetik
6. November 2018, 20 Uhr, Raum 110
Gebäude Hardenbergstraße, Hardenbergstraße 33, 10623 Berlin