Jahresausstellung 2017 | "deep inside Eden"
Austellung als Teil der Jahresausstellung 2017 in der AkademieGalerie
Austellung 22.07. - 30.07.2017
Öffnungszeiten SA/SO 15:00 - 20:00 Uhr | MO - FR 16:00 - 19:00 Uhr oder nach Anmeldung This email address is being protected from spambots. You need JavaScript enabled to view it.
Ort AkademieGalerie München | U-Bahn Universität | Ausgang Nord
Dominik Bais
Rebecca Grollmann
Rupert Jörg
Patrick Ostrowsky
Mariya Vasilyeva
Jakob Weiß
Paulina Nolte "Going Home"

Eröffnung MI 28.06.17 | 19:30 Uhr
Ausstellung 29.06. - 11.07.17
Öffnungszeiten DO - SA 16:00 - 19:00 Uhr sowie nach Vereinbarung
This email address is being protected from spambots. You need JavaScript enabled to view it.
I invite you to join me in a room of collected sadness,
placed in small boxes and handled with care.


Where grieving becomes individual, it appears in a delicate
range of chubby shapes.


When a body is forever calm but the spirits are joined
by the hands and dance in circles to the sound of a
high-pitched voice.


When a funeral becomes
an occurance of repetition,
a happening of thought,
an organized ceremony.


: where bad breath has no meaning
: when emotions are mixed to juice
and solitude is made team captain.


: where the constructed sorrow awaits.


I invite you to join
and be joined by the cold
thought of death.
Protected by the sincere
feeling of something soft
and the calming scent of
Lavender.  

Sent from peaches
Lina Zylla "Sorry, das ist mein Phantasma, nicht Deins!"

Eröffnung DI 06.06.17 | 19:00 Uhr
Ausstellung 07.06. - 20.06.17
Öffnungszeiten MO 18:00 - 20:00 Uhr | SA 15:30 - 18:00 Uhr
oder nach Anmeldung: This email address is being protected from spambots. You need JavaScript enabled to view it.
Außerdem ist im Rahmen der Gruppenausstellung "Reagens" in der Lothringer13 zwischen 1.6.17 - 4.6.17 eine Videoarbeit zu sehen, die im Zusammenhang dieser Ausstellung steht.
AkademieGalerie: Manifest: Dschungel

Ausstellung von Adrian Sölch in der AkademieGalerie
Eröffnung DO 27.04.17 | 19:00 Uhr
Ausstellung 28.04. - 05.05.17
Öffnungszeiten jeweils 15:00 - 20:00 Uhr
Pnik "Mach das ordentlich"

Eröffnung DI 28.03.17 | 19:00 Uhr
Ausstellung 29.03. - 13.04.17
Öffnungszeiten MI/DO 15:00 - 19:00 Uhr | SA 14:00 - 17:00 Uhr
außer MI 29.03.
Malen ohne Qualen nicht möglich, trotzdem fröhlich!

Ohne Beobachtung keine Erkenntnis, ohne Vermutung keine Ahnung,
ohne Versuch kein Erfolg.
Es bedarf einen langen Atem. Und den Glauben an sich.
Daran darf man nicht sparen.
 
Auch wenn man wohlmöglich, den Karren an die Wand fährt. 
Shachar Cohen, Joohee Han und Samira Goetz "Vagabond Heaven"

Eröffnung DI 07.03.17 | 18:00 Uhr
Ausstellung 08.03. - 17.03.17
Öffnungszeiten MI - SO 08.-12.03.  12:00 - 18:00 Uhr |
MO - FR 13.-17.03  17:00 - 19:00 Uhr
We are drifters.

Aiming our car to the wall and missing it completely by exhibiting a lateral slip, resulting in an oversteer condition. The outcome of performing these manoeuvres leaves us in a state of no ground.

Wandering from field to field, without conforming completely to any. Questioning and shaping ourselves as we go. Swinging between the love of the observers and nobody noticing us.

WARNING:
Drifting is not for the faint in heart as it will have a sudden spike in epic.
Cordula de Bloeme "Greetings from Tepito. Touristification of urban poverty and the struggle of representation"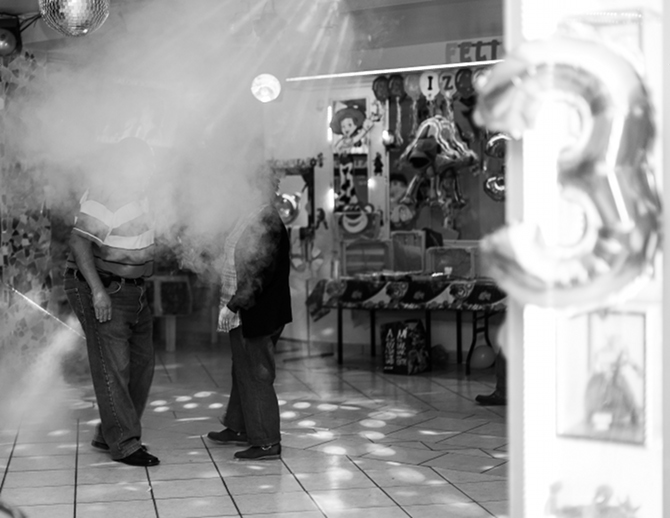 Eröffnung DO 16.02.17 | 18:00 Uhr
Ausstellung 17.02. - 24.02.17
Öffnungszeiten FR-SO 17. - 19.02. 14:00 - 18:00 Uhr |
MI - FR 22. - 24.02. 16:00 - 20:00 Uhr
 
Just a stone`s throw from the so called Zocalo, the Placa de la Constitución, which is the main central square of Mexico City, is Tepito, a historic, notorious city district that can be visited as a tourist attraction. With Alfonso`s "Tepito Safari" strangers are guided safely through the borough, that they would not dare to enter by themselves.


The commercialization of Tepito as a tourist product is strongly associated with its negative reputation and its visual representation and the way, they influence each other. Still there is a certain pride among the Tepiteños, the inhabitants of Tepito, or even a collective identity, that seems to defy poverty and the negative image.
The Student Art Collective / Projektklasse Lieberman "BIllboard"

Eröffnung DI 31.01.17 | 19:00 Uhr
Ausstellung 01.02. - 12.02.17
von außen einsehbar
The Student Art Collective "BILLBOARD"

In unserer Ausstellung BILLBOARD präsentieren wir, The Student Art Collective, eine Gemeinschaftsarbeit im öffentlichen Raum. Das Billboard (engl. Reklametafel) ist eine der bombastischsten Formen des Kapitalismus. Wir greifen diese Form auf und erkunden auf ihrer Fläche die Beziehung zwischen künstlerischer Subjektivität und kollektiver Identität.
 
Trotz der Größe und Allgegenwärtigkeit eines Billboards, bleibt dieses eine urbane Randerscheinung. Generell wird ein Billboard an Fassaden oder auf Gerüsten installiert und wahrt dadurch eine gewisse Distanz zum Betrachter. Wir nehmen das Billboard von dessen privilegierter Position hoch über den Massen herunter, um es zu untersuchen und zu bearbeiten.

Das angebrachte Bild ist das Ergebnis einer gemeinsamen digitalen Collage. Zwei Monate lang arbeiten wir an einer einzigen Bilddatei und erstellen durch Hinzufügung, Manipulation und Auslöschung ein digitales Tafelbild. Als Material dienen uns eigene und gefundene Bilder sowie die Spuren der Werkzeuge und Filter des Bildbearbeitungsprogramms Adobe Photoshop.

Ausgangspunkte sind für uns z.B. die fragmentierten Narrationen in den Bildern des Hieronymus Bosch und Pieter Bruegel, mit ihren zeitgemäßen Ansichten dekadenter Szenerien (und selbst auch Ergebnis einer engen Zusammenarbeit mehrerer Autoren); oder Raymond Hains' Decollagen, der in den Resten abgerissener und überklebter Plakate an den Pariser Mauern der '68er' eine abstrahierte Manifestation menschlicher Meinungsverschiedenheiten sah.

Das Medium Photoshop ist den Künstlern unserer Generation ebenso geläufig wie dem Betrachter, der dessen Spuren gleich erkennen oder nicht erkennen mag. Statt Veredelung Herabsetzung; statt Perfektionierung Chaos. Durch diesen Missbrauch wollen wir Photoshop als Medium beleuchten, mit seinem Vermögen für ungebändigte Künstlichkeit, aber auch mit seinen ungeschriebenen Regeln.

Unser Billboard wird von einem Gerüst getragen, in dessen Schatten wir, von Stangen durchkreuzt, eine verborgene Feier veranstalten werden. Eine Hommage an all die toten Winkel einer Stadt: Unter den Brücken und Tribünen, hinter den Buchstaben des Hollywood-Zeichens. Öffentlich, aber vor den Blicken der Stadt versteckt.
Nattaphon Chaiworawat "Things inside"

Ausstellung von Nattaphon Chaiworawat in der AkademieGalerie
Eröffnung MO 09.01.17 | 19:00 Uhr
Ausstellung 10.01 - 20.01.17
Öffnungszeiten MO - FR/ SO 14:00 - 20:00 Uhr | SA 13:00 - 17:00 Uhr
Things inside
 
Things inside is a performative series that relates with daily activities by concentrating only on the act in each moment.
The intention of this series is to concretize internal abstract visual and perceptual mechanisms in a simple way.
Also to contribute an "area" that manifests the value of here and now, that let us look back to ourselves with different perceptions which reminds us how the same we are.
 
Round of existences
 
An video installation event which invites people to experience inside themselves by using 49 footages in 7 monitors which represent 49 days of Natthaphon's sitting meditation as a part of his practice when
he was a monk in Thailand.
The Monitors display loops 7 days in life, from Sunday to Saturday, which define that everything is possible to happen, to remain for a certain period and disappear or transform to other states at the end. Even in the same
circumstance it is always different.
 
Things inside_04 (Let's talk about your stories)
 
In that durational performance Natthaphon invites people to make conversation with him or someone else in a casual way.
The purpose is to represent the idea of sharing experiences. Daily activity as talking is one of several general acts that everyone can express or perceive opinions, feelings or experiences. Sometime we
just need someone who can listen attentively. Ones who can share similar experiences with you to remind that we are all the same and somehow you will be reliefed.
Esther Zahel "Gedankenpralinen"

Eröffnung MI 14.12.16 | 19:00 Uhr
Ausstellung 15. - 29.12.16
Öffnungszeiten DO/FR 15:00 - 19:00 Uhr
sowie von außen einsehbar
 "Gedankenpralinen" von Esther Zahel wird Bilder zeigen, die mal ganz konkrete mal komplizierte Dinge zeigen. Möbel und Pflanzen werden dann etwa auf den Liebeskummerautomaten oder eine Zeitmaschine treffen. Man stelle sich ein Drahtseil vor, das zwischen rationaler Überlegung und freier Unvernunft gespannt wurde - Esther Zahels Kunst tanzt darauf.